Communication

This aspect of our structure focuses on the process of dialogue, both internally and externally. Internally, professionalism is highly valued at TCS. Clear expectations are outlined and respected within the professional community: Be disciplined. Respect the multiple perspectives within our body. Be problem-solvers and risk-takers. Keep a family perspective. Maintain a student-centered focus. These are the components that ensure a mission-focused type of dialogue for all interactions within the educational community.
Externally, professionalism is highly valued at TCS. How do we do this? First and foremost, we have conversations that reflect truth and grace. We also carry out this part of our structure through parent conferences, interface through technology such as RenWeb, and pre-scheduled conferences. Our primary endeavor is to create an environment that knows your family through your child. Each of these avenues focus on trust, this is the affirmation that comes from honorable conversations.
Connecting Fides  to everyday learning…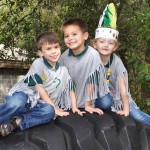 Our kindergarten community is passionate about learning through experience. As a stepping-stone, our young lions walk through a series of learning climates inside and outside of the walls of TCS. As an educational community aware of the needs of the 21st century learning model, the ability to express one's thoughts, feelings and beliefs is a non-negotiable. So, from the moment a student walks on the campus as a kindergarten student, this is the paradigm that is learned and understood by the student. This paradigm hinges on the notion of communication.  From the first year on this campus, our partnership is marked by: face-to-face conferences, weekly newsletters, and safe havens for trusted dialogue.