Design
This aspect of our structure focuses on the process of ensuring individualized learning for all students within the educational setting. Individualization requires an understanding of each student's specific development intellectually.
Our primary tool for fulfilling this role is through a Student Learning Plan. A Student Learning Plan is developed through a partnership with home and school. It is a process of coupling professional observations with a perspective outside of the school.
This synthesized lens empowers the teacher to create and monitor three goals for the school year. These three goals set the stage for the unfolding of differentiation. Student Learning Plans vary dependent upon the student and his or her needs, but what is consistent is the strategic focus that is used to implement this tool each year. The teacher couples this tool with best-practice instructional strategies which provides an engaging learning experience for all students.
Connecting Fides  to everyday learning…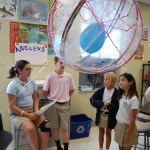 Our middle school science classroom is defined by individualized learning for all participants. The 6th grade students create a cell that is marked by their own processing of the current standards and expectations. Each interpretation of the components is different, but valued by the learning community guided by the teacher. This process of introducing and developing a differentiated approach is another way that shows our design process.
Each year TCS 6th grade students turn TCS's Science Lab into a cell. A student vote determines whether the "Classroom as a Cell" is a plant or an animal cell then students transfer their classroom cell discussion and research into multiple creative models of cell components.
Once the project is complete, TCS 4th grade students and student families are invited to a student-led tour of the "Classroom as a Cell." Students share information about the basic composition of cells, organelles, cell theory, and the contributions of Robert Hooke and Anton van Leeuwenhoek, scientists whose work led to the cell's discovery.