Pedagogy
This aspect of our structure focuses on the art and science of teaching. Providing excellent instruction to our students is a critical value. Based on the mission statement and portrait of a graduate, a specific type of professional is required for this high-calling. Therefore, the Characteristics of Professional Excellence articulates the type of professional that most clearly represents and is able to fulfill our mission statement through the leading of a classroom. The characteristics outline the specific attributes that can be seen inside and outside of the school walls. TCS teachers are an integral piece of Christian education and the transformational interactions that occur each day. They are the foundation in which our curriculum is ignited and your child is encouraged in becoming a life-long learner.
Connecting Fides  to everyday learning…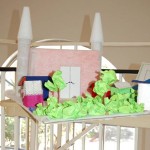 TCS 5th grade students explore C.S. Lewis through a journey into foreign lands. The teachers created a unit that focuses students' attention on working within groups to create a kingdom of their own. This kingdom requires a given location, laws, consequences, language, rules, entry, coat of arms—everything that entails a universe of its own. This hallmark process of learning shows the art and science behind instruction at TCS—the notion of leading a child.
Building Castles in the Air?
Following their study of The Lion, the Witch and the Wardrobe, TCS 5thgrade students created fantasy kingdoms complete with a castle, maps, laws, currency, a coat of arms, and characters. "I call this my blood, sweat, and tears project," says TCS 5th Grade Teacher, Kathy Whitman. While fantasy castles seem like the stuff daydreams are made of, Whitman says this annual 5th grade event is a "a real-world project."
Miss Whitman created certain elements of this project to mirror C.S. Lewis's masterpiece and, at the same time, be a group project to help students define within themselves their own areas of strengths and weaknesses. "Students recognize their own strengths and weaknesses and see the same in others, too, while working on this project," she says. "Group members have to cooperate, collaborate, and sacrifice time to create a product. They begin to understand that we need each other. We all rely on others to accomplish a task."