Reflection
This aspect of our structure focuses on the process of analyzing the learning that is going on with each student and within each classroom. The analysis is an ongoing endeavor at TCS and is woven through many aspects of our day-to-day student experience.  We focus on the Essential Knowledge for the grade level—these are the academic mastery skills and concepts. These are generated from state and national standards, ensuring that our students are competitive within TCS and beyond TCS.
By identifying the Essential Knowledge, our curriculum is guided to determine acceptable evidence of mastery. This varies depending upon the stage of development and the subject matter. For example, for one skill a timed-test reveals mastery while for another concept an oral presentation better exemplifies mastery. Not only does the Essential Knowledge guide our acceptable evidence, but also guides the strategies that are chosen to teach the varied concepts and skills.
Connecting Fides  to everyday learning…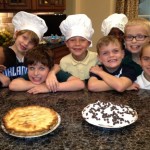 TCS 2nd grade students and teachers focus tremendous pursuit on delivering Essential Knowledge through a 17-year tradition, "A Native American Pow-Wow". The unit called, "First Americans" requires students to write, sing, and explore this incredibly important time period. The state and national standards require students to recognize these events in history. Our focus is recognition as a first step and internalization as a last step. Analysis of standards is the transformational part of this learning experience.
Second Grade's Annual Native American Feast
Lee Fellowship Hall becomes a festive display of Native American culture and harvest each November as TCS 2nd grade students celebrate their annual second grade Native American feast. The event began 17 years ago and has grown since. Students learn traditional Native American songs and dances in music, create and display dioramas using their classroom knowledge of "First Americans" along with Native American pottery created in art.
Students shuck corn and snap beans, they make teepees–as table centerpieces, not dwellings–and create their own vests and headdresses to prepare for the annual celebration.
Parents make the learning experience even more festive by hosting pie baking nights in their homes and at school. The cooking continues on feast day as students leave the classroom with parent volunteers to help make wild rice and Indian Fry Bread to enjoy together at lunch. Finally, following a traditional Native American prayer, a buffet lunch is open to enjoy.
This event is a celebration of learning and community. "A group of energetic mothers wanted a feast 17 years ago," shares Second Grade Teacher, Pam Leadbitter, a founding faculty member. "We've been tweaking the event ever since. Now it is an integrated study that incorporates all learning styles into our study of the First Americans."
Click for Common Core Position Statement