And the Winners of the Science Fair Are . . .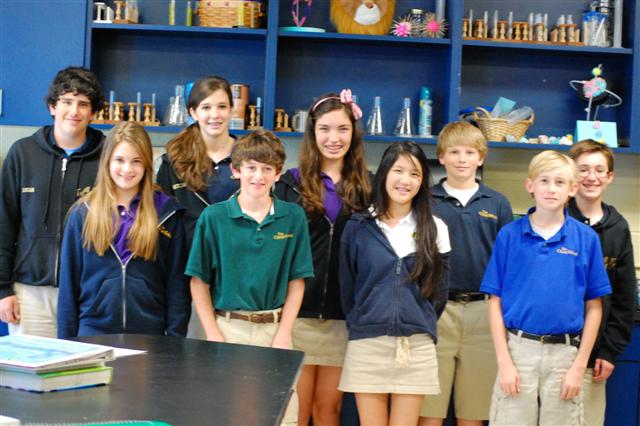 The  Media Center and adjoining areas were filled with 54 fantastic Science Fair tri-fold posters.  The 7th and 8th grade students were dressed to the "9's!" standing by their boards ready to explain their projects to all who would listen.  Then,  the moment everyone had been waiting for:  the final winners were announced.    There were nine awards given out:  the top four from each grade as well as Best of Show.
The Best of Show went to Tucker McKillop  who tested which metal created the best levitation for magnets.
The 7th grade winners and the topics they tested:
1st place –  Avery Reddeck; Which solution keeps fresh cut flowers alive the longest?
2nd place –  Clayton Partlow; Which acidity of soil grows the best bean plants?
3rd place –  Rylee Witherington; Which color light do plants grow the best under?
4th place –  Jack Walker; Which type of water allows planarian worms to regenerate the fastest?  
The 8th grade winners and the topics they tested:
1st place – Logan Mast;  How does mass affect the distance an object will travel?
2nd place –  Gretchen Chevalier; Which temperature grows the most crystals?
3rd place – Georgia Lombardy; Which material insulates sound the best?
4th place – Nick Seaman; Which strength flashlight produces the best prism?
It was a great turnout!  Thank you to all who attended the award ceremony and to those who supported our young scientists throughout the scientific process.  Way to shine, Lions!