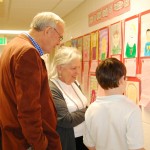 by:  Hannah Millard, TCS Middle School Student
TCS students were very enthusiastic about this year's Grandparents' Day.  It is always a cheery program and very exciting to see the grandparents gladly tour the school.  The grandparent turnout was great and who wouldn't want to see their grandchild perform in the sanctuary just for them?!?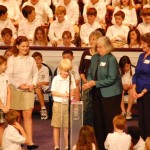 The program was brought to life as kindergarten through 8th grade students marched into the sanctuary holding flags depicting their grade level.  The singing was led by Wil Brown, Middle School students talked about The Christ School, grandchildren competed against their grandparents in an exciting game show, beautiful music was performed by the students and much, much more made Grandparents' Day 2011 extra special!  Dr. Powell, announced many exciting awards including who had the most grandchildren (19!) and who traveled the farthest (8,000 miles from China).  Grandparents enjoyed watching a video about their grandchildren's wonderful school and the program ended with pictures of grandparents submitted by their proud grandchildren.    Alas, the day was an amazing success!