Selecting the Right School for Your Family
by Joanne Fleming, Director of Admission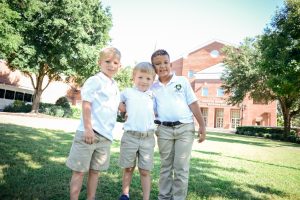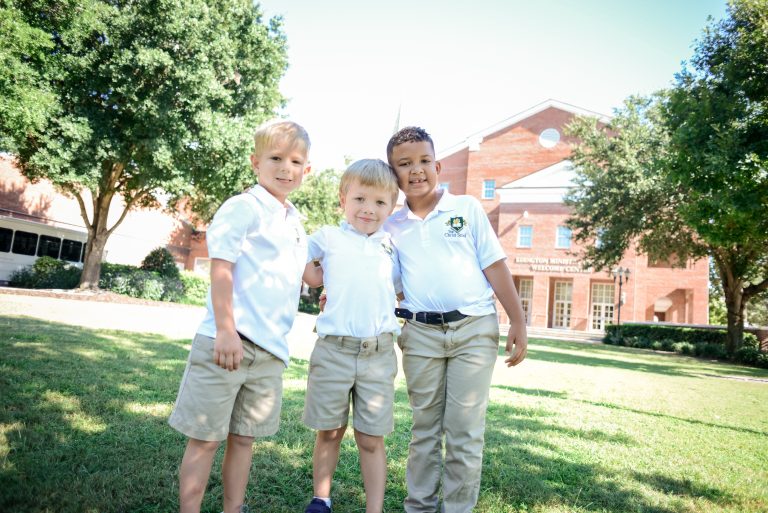 Selecting a school for your child may be one of the most significant investments you make. Just like families, schools have personalities, visions, passions, missions, that must be a good match for your family in order for the partnership to work. In my conversations with families, many questions arise as the family seeks to learn about our school and I seek to introduce them to our offerings. The following, big picture questions typically arise as parents decide on their school choice.
What is the difference between an independent school, parochial school and public school?
The biggest difference is the organizational management and funding. Independent schools are mission-based, typically non-profit in design, have tuition-based funding and a Board of Trustees that focuses solely on the school's long-term vision and financial health. Independent schools have the freedom to assess students requesting admission into the school based on the school's mission and academic platform. Enrollment is a privilege, not a right. Parochial schools are ministries of a church. They offer curriculum that compliments their denomination's beliefs, typically receive funding via a budget allocation from the church and/or facility usage, in addition to tuition. They are managed by a Board of Elders, or the like, who are responsible for all of the church's ministries. A public school receives tax-based funding and must admit all students who are zoned for the school. Charter schools, also under the public school umbrella, have a few more freedoms yet are ultimately accountable to the local public school board.
Do you have any openings?
In keeping with a private school's academic focus, classes average in size. Private schools use waiting pools in grade levels that have reached their maximum capacity. Students in the waiting pool have been assessed and deemed mission appropriate. The waiting pool allows schools to manage offers of enrollment based on class dynamic, gender distribution, learning styles and personalities to build a class of students who will compliment each other to create an engaged learning community. Public schools must enroll all students within their zoning area.
How do I apply for financial assistance?
Each private school has a program that is designed for their admission/enrollment process. If financial assistance is a need for your family, be sure to discuss the financial requirements up front. No matter the program, having a need-blind enrollment process is a top priority. A school's first concern should be to determine if they can serve your child within their academic platform. Through a need-blind system, financial assistance is processed only after an enrollment offer has been extended. Most school's financial assistance is privately funded through the school's budgeting process and is need-based. Allocations match the family's need to the school's ability to serve.
Tips for Interviewing a School
 Schedule a tour when students are on campus. This will give you a feel for the school's energy and personality.

 Prior to the tour, review the school's website, bring a list of questions to ask and take notes during the tour. Remember, this school must be a good fit for your family. Make sure the mission and vision of the school match your family. Ask the same or similar questions of each school you visit for quality compariables.

 Ask to see the curriculum materials used in the classroom. What is the school's academic philosophy?

 Ask to speak with at least one grade-level teacher and students, if possible.

 Ask to speak with a current family in the grade level to which you are applying. School culture is essential for you to understand – does it blend with your family?
Questions to Consider When Interviewing a School
 Are differentiated teaching tools available in the classrooms and used by the faculty?

 How much screen time will students experience per week and what technology resources does the school offer? (I would be looking for minimal screen time in the lower grades with more hands-on learning. Still looking for hands-on/project based learning all the way through high school however, the percentage changes.)

 Is the school accredited? If yes, by whom?

 What are the class sizes?

 Are faculty credentialed and teaching within their certification area?

 What are the professional development expectations of the faculty?

 Does the school have a student support center? What services are offered?

 Are after school enrichment programs offered?

 Does the school offer an extended day program?

 What is the school's safety protocol?

 Does the school have a STEAM lab? If not, how do they intentionally introduce STEAM-based learning?

 Is project-based learning a priority? Ask for examples …

 Does the school offer multi-age/multi-grade learning programs? Ask for examples …

 Is recess offered and if so, how often and for how long?

 What "special area" classes are offered?

 Does the school offer a lunch program?

 Are athletics offered and at what grades?

 What is the school-wide discipline plan? What tools are used for classroom management? (Is the school looking for children to exhibit positive  behavior or, is the school watching for children to make mistakes?)

 How will the school communicate with you? How many times per week and in what methods? How do you communicate with the teacher? How do you communicate with the school?

 What is the school's admission/assessment/enrollment process?
Remember, each school, just like your family, is unique. Select a school that compliments your desires for your child, will help advance your child's passions, will partner with your family as bumps occur and celebrate when challenges are overcome. A strong family/school relationship is key for a student's success. Choose wisely…