TCS Welcomes Val Demings
Black History Month continues to be celebrated at The Christ School with today's special chapel speaker, former Orlando Police Chief and recent candidate for Congress Val Demings.  Mrs. Demings encouraged TCS students to reach for their dreams and to not allow naysayers to direct their paths.  She spoke about the blessing of a solid Christian education, always preparing for the next challenge (going above and beyond expectations) and taking advantage of opportunities.  Mrs. Demings was one of seven children born to a poor family in Jacksonville.  Throughout her journey from Jacksonville, to Florida State for college, to Orlando as a patrol officer working the midnight shift in Orlando's west side, she heard her mother's voice of encouragement and knew her path had been bathed in prayer.  Mrs.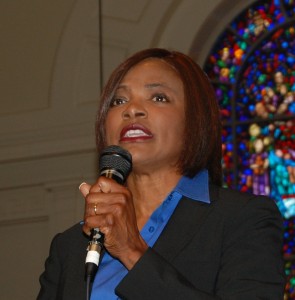 Demings saw her dream to serve her community fulfilled when, in 2007, Mayor Dyer appointed her the first woman Chief of the Orlando Police Department.  The Christ School is honored to have had three great Americans share their stories with our community this month.