Photo of the Week: A Message to Donors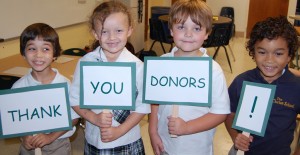 The 2012 – 2013 Annual Fund Campaign is off to a great start thanks to our fantastic Faculty and Staff, Board of Trustees, and Parent Teacher Fellowship. All three groups are working towards 100% participation in this year's Annual Fund, and they are well on their way! This year, your donations will be used to:
recruit and retain the best faculty and staff
enhance technology in our classrooms
increase financial assistance to families in need
provide professional growth and development for faculty and staff
Thank you to everyone who has already made a commitment to this year's Annual Fund. We are very grateful for all you do to support The Christ School and her mission.
Click here to make your gift today. For more information about The Christ School Annual Fund and how your family can help, please contact Joanne Fleming in the Advancement Office.