The Premier transitional kindergarten through 8th grade experience in Central Florida.
---
What Parents Have To Say About The Christ School
The Christ School is exactly what they say they are and the people are exactly what they promote themselves to be. The staff is highly motivated, focusing on each child. We are blessed to be able to send our three kids to this school. We can not say enough positive things! My children are being prepared not only academically for the next stage of development but also spiritually which is just as important to our family. Take a tour and see for yourself why this school is so amazing!


Jodi Thorp

The Christ School has provided my son with an exceptional education experience. The teachers and staff truly care about the students. The parent participation is amazing and I feel blessed that we are part of this wonderful community.


Amy Miller

The Christ School has been a truly amazing experience for our family. From the Christ-centered foundation, to the talented and loving teachers and staff, to the overall community feel - TCS has met all our needs and then some. They are focused on quality vs quantity and continue to evolve and provide additional programs that will meet the needs of our children. WE LOVE TCS.


Jennifer Deese

If you desire a loving, enriching, academically strong environment where children still have recess and get to worship God every day, then TCS is your place! We are so thankful for the opportunity to educate our children here.


Agnew Boys

We have been a part of The Christ School for five years now, with our oldest starting in Kindergarten. We cannot say enough good stuff about TCS. We were drawn to TCS by the rigorous academics, Christ centered community and the sense of community. TCS has never disappointed. We highly recommend TCS to any family.


Maria Hale

Our oldest daughter transferred to The Christ School in the middle of her Kindergarten year. She was struggling socially and emotionally at her original school. She was welcomed to TCS with open arms by her new teachers and students. Within a week of staring at TCS she was back to her happy, smiley self. Fast-forward a few years and that same girl is finishing her 4th grade year. She is happy and thriving! We have two younger children who are happy to go to school at TCS every day. The teachers, staff and administration are approachable and loving, and the school families are welcoming and down to earth. Making the switch to TCS has positively affected our family and children in so many ways and we are very grateful to be here!


Mariah Malagian

I am reminded every day how very special The Christ School is to our family! The teachers, staff and parents make the school a warm, loving and educational community where core values and a love for God are emphasized. Thank you to The Christ School for all you do!


Shelby Finkelstein





What a blessing TCS has been for our family. We came for the Bridge program for our daughter. Our son chose to join her this year for 5th grade and while he is not in the Bridge program we have been so pleased with his transition. It is a testament to the loving and nurturing faculty as well as the families that attend TCS. Our daughter's confidence at school has grown significantly and she will tell you she is no longer afraid to raise her hand and volunteer in class. With our son going into middle school we are grateful for the solid curriculum as well as the spiritual component and sound doctrine both children are learning at school. The Christ School provides a safe learning environment for our children and we are extremely thankful for the opportunity to partner with them in our children's education.


Cherie DePriest





The Christ School has been a wonderful blessing to our family! We are so thankful that our children have had the opportunity to be part of a challenging academic school while also learning to be a leader by Biblical teachings and examples. We have appreciated the emphasis on the importance of Christian character and excellence in all areas of life. We would recommend The Christ School to anyone who is looking for a wonderful K-8 experience for their family.


Amy Mims





The Christ School is providing the perfect foundation for our daughter. Offering a balance of academics, faith, athletics, art - all centered downtown - TCS provides students with one-of-a-kind access to Orlando's best assets within walking distance of campus. The families and teachers are friends and partners in the growth and development of our child.  We could not be happier and have already enrolled our youngest to start next year. As parents who are not native to Orlando, we are thrilled we found this local gem.


Jessi Blakley





When we enrolled our first child at TCS 10 years ago, we came for the warm environment and the strong Christian values. Now, with one TCS graduate and one in TCS middle school, we are astounded by the academic preparation and leadership training our children received at TCS and how ready they are for the next academic level.


Alexis Kramer




The Christ School is Accredited by:


Florida Council of Independent Schools (FCIS)
Member of the Council on Educational Standards & Accountability (CESA)
Located in the Heart of Downtown Orlando Florida
On the campus of First Presbyterian Church
Students at The Christ School receive a strong Christian education with an emphasis on academic excellence. Each graduate is prepared to perform with distinction at the next academic level. They are equipped and motivated to be a curious and passionate learner, confident in communication and leadership skills, secure in their identity as a child of God, committed to being others-oriented and devoted to glorifying God. Our graduates are confident learners and communicators who seek opportunities to help others and add value to their community.

Our students excel through an engaging and experiential learning environment. Lessons are focused on the 4Cs: collaboration, communication, creative problem-solving and critical thinking. STEAM-based activities are infused across all subject areas and a growth-mindset is celebrated with our students through daily words, actions and lessons. Students at The Christ School have access to quality resources and teachers who are invested in their academic, social and emotional success.

Every child should have the opportunity to explore their passions. Our robust program includes arts, athletics, social development, leadership opportunities, and service.

We invite you to come and tour The Christ School. Explore our campus and classrooms. Experience who we are as a community. We look forward to meeting you!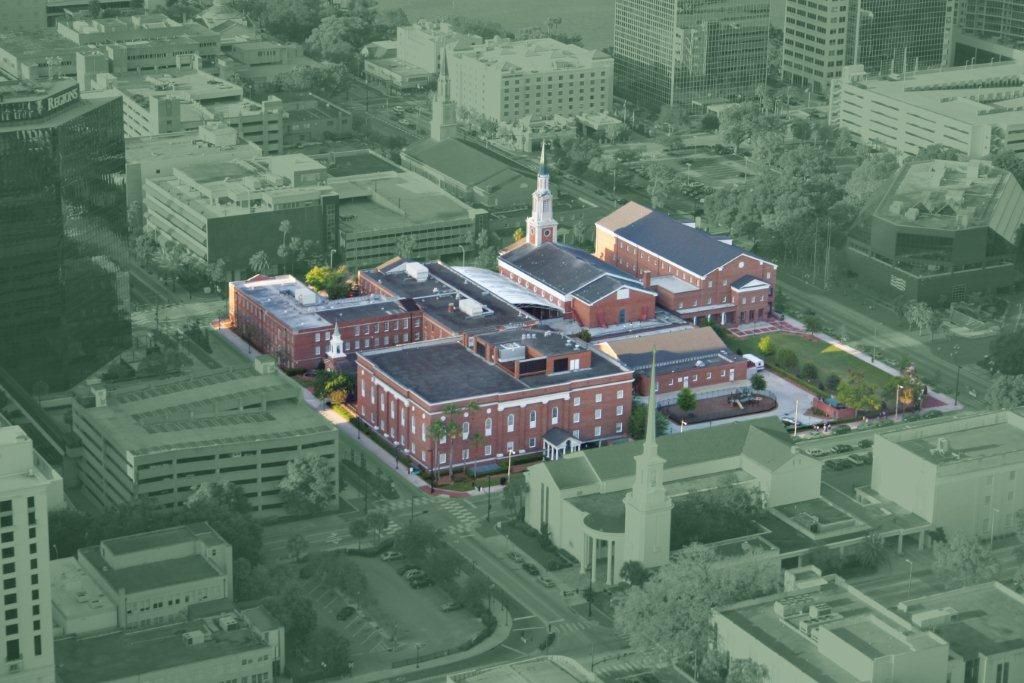 The beautiful downtown Orlando First Presbyterian Church campus; home to higher levels of learning and growth. Come see for yourself what makes The Christ School an amazing place.