Photo of the Week: Prayer and Spirit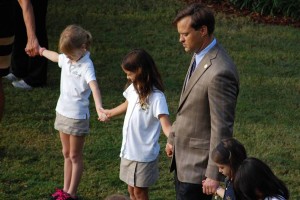 TCS gathered for See You at the Pole on Wednesday, September 26th. The event began in 1990 as a way for public school students to pray at school. During chapel time, TCS joined with others to celebrate this event in prayer.
"We are a community of people who value education and childhood," said Head of School, Jason Powell, Ed.D. of TCS's commitment to daily faith development. "We are serious about the spiritual formation and faith development of children. Here Christ is not only a Sunday school concept in students' minds–this savior in their lives–He is their Lord with whom they have a personal relationship. I believe TCS is one of God's tools for faith development in our children's minds and hearts, and in the hearts and minds of families, faculty, and staff."
Spirit Day was held on Friday, September 28th to recognize and celebrate our fall athletes. "The number one thing we tell our students is that they are playing their game for the glory of God, to honor Christ and TCS," said TCS Cross Country Coach and Board Chairman, Charles Cook. "TCS is having a great season in fall sports—cross country, volleyball, swimming, and soccer."
On Monday, October 8th our 6th grade girls' championship volleyball match against Trinity Prep. will be played here at home and our last swim meet of the fall season will be held at 6:00 p.m. at Lake Highland Prep. Cross country's championship meet is at 4:30 p.m. on Tuesday, October 9th at Trinity Prep. Come out to cheer your Lions on to victory.