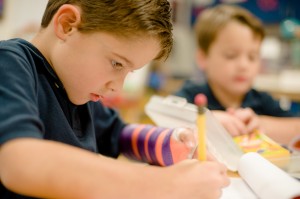 The Transitional Kindergarten program is designed for students who are age appropriate for Kindergarten but who exhibit younger developmental tendencies. It is the first year of a two-year program that uses a modified Kindergarten curriculum that is age and developmentally appropriate.  This program may be referred to as a "young five" class, since many students who participate turn 5 years of age during the summer or right before the start of the school year.
A successful Kindergarten experience relies on the readiness of the whole child, not just a measuring of academic skills. The Christ School's Transitional Kindergarten program provides children with an opportunity to learn in an enriching and academically challenging environment that nurtures their growth. This program builds on the skills children may have learned in preschool to ensure they begin Kindergarten with confidence in a school setting.
The curriculum in Transitional Kindergarten at The Christ School is modified from the regular Kindergarten program to meet the academic, social and emotional needs of younger children but relies on the same standards as our kindergarten program. The program includes more opportunities for growth in social and emotional areas, language development and communication through dramatic play, small group instruction, and intentional teaching through hands-on activities.  The curriculum is built on foundational development skills including auditory and visual memory, vocabulary development, visual-motor integration, phonemic awareness and gross motor. Children are exposed to reading and math in an exciting, interactive way by using educational games to teach words and sentences, and to understand mathematical concepts such as counting and patterns. The social, emotional and academic skills children learn in Transitional Kindergarten help them to succeed in Kindergarten, become leaders in the classroom and confidently navigate the school day routine.
To learn more about The Christ School's Transitional Kindergarten program or to schedule a personal tour, contact Joanne Fleming, Director of Advancement.