Financial Assistance is available based solely on financial need and is available to current students and students with pending Applications for Admission.  We enlist the services of Independent School Management's Program, Financial Aid for School Tuition (FAST).  FAST provides The Christ School with a detailed analysis of each application, including a recommendation of the amount a family can contribute toward tuition.
To apply for financial assistance:
Complete the online FAST application (a $41 application fee is payable by MasterCard or VISA to FAST).
Click here to access the FAST application: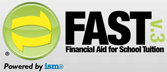 Forward copies of W-2s, Federal Tax Return and corresponding schedules to:
Independent School Management
Attn:  FAST Processing
1316 North Union Street
Wilmington, DE  19806
Returning Families' Financial Assistance Policy
A partial tuition deposit of $250 per student, with a $500 maximum per family, is due by 2/14/14 (the partial tuition deposit is refundable until an offer of Financial Assistance is accepted).
Financial Assistance Applications must be submitted by 2/14/14.
Financial Assistance award letters will be mailed by the end of March, 2014.
If a Financial Assistance offer is accepted
Family must enter into Enrollment Contract(s) within 7 days of offer.
Full tuition deposit of $650 per student becomes nonrefundable.
Balance of tuition deposit must be paid in full or rolled into the new FACTS balance.
Balance of tuition deposit becomes due in full immediately if family terminates Enrollment Contract before May 1, 2014.